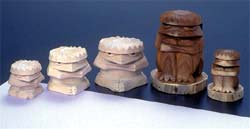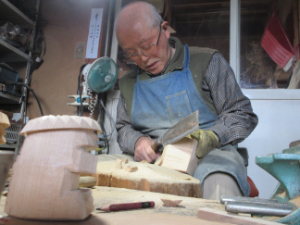 Main production area
Tono
Overview
A representative folk art of Tono engraved with the unique humorous expression of Kappa, using the woods of oak tree and enju, with Kappa appearing in many tono stories as the subject. There is also a "Kougo Kappa", which has been well received as a souvenir.
History / History
Opened "Kirokuri" as a workshop in April 1993, and started manufacturing wood carving Kappa in earnest.
Main products
Chinese wood: 1,500 yen to 3,500 yen
Wood and eel (Enju): 2,300 yen to 5,000 yen
Award calendar
Received the National Mall Promotion Association Federation President's Award at the 2007 National Recommended Tourism Souvenir Committee.
Manufacturing process
Purchase timber and lumber, dry (about 1 year) → processing → finish
contact information
Tree cracker
〒 028-0555
Iwate Prefecture Tono City Toho Town Tochigi 18
TEL0198-62-0881