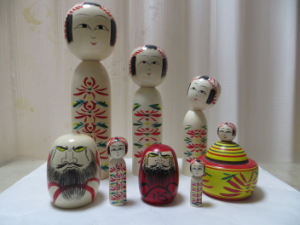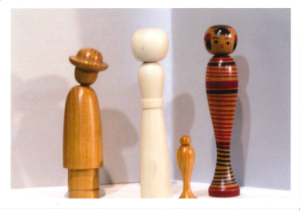 Main production area
Hanamaki
Overview
Hanamaki Kokeshi uses good wood called Kosambara (Aohada), which has a solid white white skin, and the neck is inlaid and the head moves swaying, and in the old days it is called "kick labocco", and it is now expressed as "kinakina", nationwide Even the southern line is a feature. Recently, I am seeking changes using colored materials such as enjus, sakura, zelkova.
History / History
The Southern Kokeshi is made in a quinakina style without painting, mainly by Hanamaki, and by his ancestors, Sasaki's and Aji Son's, and then painted by the influence of workers such as Naruko and Tokarida. In the early Showa era, the tradition was protected by the great-grandson, Sato Hideyoshi, etc. Currently, it is inherited by Tadao Sato and Morizo Atsuson.
Main products
・ 6 dimensions: 1,800 yen ~
・ 8 size: 2,500 yen ...
・ 1 measure: 4,000 yen ...
-Ediko: 700 yen ~
-Toy Ediko: 2,000 yen-
Award calendar
Winners of the All Japan Kokeshi Competition Minister of the Trade Minister's Award, Ministry of Education, Ministry of Education, National (Naruko), All Japan (Shiroishi), Michinoku (Yamagata) etc. Hanamaki City Takumi commendation (2002 Sato Tadao, 2005 Akira Osamu Mori)
Manufacturing process
Raw wood (cutting out) → drying (more than 6 months) → ball cutting (finishing the wood surface with a round saw to size) → wood cutting (roughly round) → rough lapping → wood surface finishing → paint color (paint with ink and dye) → Finish (grind with wax)
contact information
Sato Tadahiro 025-0036
Iwate Prefecture Hanamaki City Nakanekogawa 2-2
TEL0198-24-7748
Great-grandfather pokesman 025-0014
Iwate Prefecture Hanamaki City Takamatsu 26-35
TEL0198-31-2165