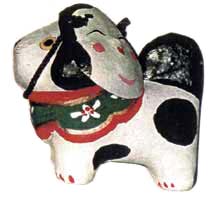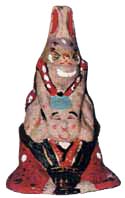 Main production area
Kanegasaki
Overview
Using handmade paper from Towa Town (now Hanamaki City) Narishima, produced in the prefecture, we are making Japanese paper and paper paper dolls with our original "backing" technique. The light and durable rustic taste is popular, such as the traditional Oni-Ken dance surface and the Kagura side, and the yearly "Zodiac" dolls. Japanese paper is light and well visible, and breathing is easy. Washi dolls are rustic tastes and are popular for interiors of rooms.
History / History
It was invented around 1955 when there was a shortage of wood carving masks in the area where local folklore was popular. After that, it was made in earnest in 198 in Kanegasaki, and it is also sold at product exhibitions in Osaka and Tokyo every year. It is also introduced in the "National Regional Toy Guide".
Main products
・ Ear comparison: 3,465 yen (including tax)
・ Fuku Dog: 3,465 yen (tax included)
・ Japanese paper (middle): 1,575 yen (including tax)
・ Oni-Ken dance surface (book-painted): 6,090 yen (tax included)
・ Start up small law teacher: 1,890 yen (tax included)
Award calendar
Iwate Prefecture Industry Festival Silver Award in 1981, Iwate Prefecture Industry Festival Gold Award in 1981, Tohoku Director General Director Prize in 1995
Manufacturing process
Clay mold making → plaster mold making → Japanese paper lining → laminating → coloring → mashi doll
contact information
Sawan workshop
〒 029-4501
50-36 Rokuhara Higashimachi, Kanagasaki-cho, Iwasawa Pref.
TEL0197-43-3397