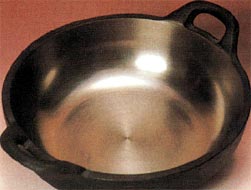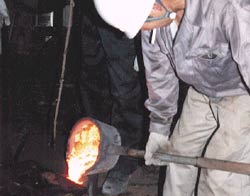 Main production area
Kuji
Overview
Because it is about 1 cm thick, once heated it maintains a nearly constant temperature, and the deep fried fried foods. It is also effective for iron supply.
History / History
The Kuji region is a rich sand iron production area, and iron has been made from this sand iron as a raw material by the "tatarabuki" refining method from ancient times, and was exported to Kanto and Kansai.
how to use
It can be used for a variety of uses, such as fried foods and boiled foods.
Main products
・ Tempura pot: 7,800 yen ...
・ Sukiyaki pot: 5,000 yen, 8,000 yen
Manufacturing process
Sand mold → iron melting → die cutting → coloring → lathe
contact information
Kogushi Ceramics Co., Ltd.
〒 028-0071
Iwate Prefecture Kuji City Kakuji Town 31-29-1
TEL 0194-52-3880