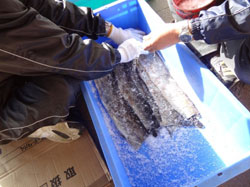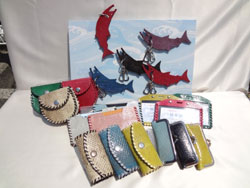 Main production area
Miyako
Overview
The skin is used to use 100% of the persimmon that boasts of landing after Hokkaido. The scale of the silkworm is a unique pattern, and it is not inferior to other leathers in terms of practicality and durability, and it is a practical product that business cards and wallets can enjoy aging. Sacrificing calamity, combined with the auspiciousness of the camel growing up, one is a product that you want to have.
History / History
Heisei year "The leather leather housewife's association" was established 2001 social welfare corporation Wakatake society Work plaza Miyako inherits the technology, it uses only the skin of the silkworm which raised in Miyako Port, under the skin processing, product making It is carried out. In addition to product sales, we have held leather and leather work experience classes.
Main products
-Purse 10,000 yen ~
・ Business card holder 4,000 yen ...
・ Name holder 2,000 yen
・ Key holder 1,000 yen
・ Strap 500 yen
Award calendar
Industry Festival Special Products Competition Prize for Iwate's Rising Iwate 1993 Industry Festival Special Products Contest for Rising Iwate's 1997 Iwate
Manufacturing process
Processing of cocoon skin → tanning → material cutting → pasting, combination → hand bending or sewing machine → fitting → finishing
contact information
Social welfare corporation Wakatake society work plaza Miyako
〒 027-0096
Iwate Prefecture Miyako-shi Sakigasaki 4-1-6
TEL 0193-64-6196