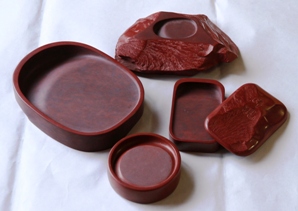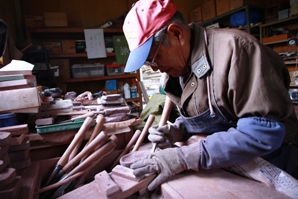 Main production area
Ichinoseki City and others
Overview
Shiun Stone is usually azuki-red, with cloud-like mottles, sometimes with green circular spots. Although it contains a thin paper-like layer, it does not peel easily, so it is the best for lumber. In addition to the elegance and smoothness of the stone, the Shiunishi Iris has a fine, well-painted indigo (inconsistencies in the surface of the stone), and the inking is warm and elegant.
History / History
Shiunishi is also referred to as "Shoshoji Stone", and it is mined near Higashiyama Town (now Ichinoseki City) Natsuyama, Mizusawa City (now Oshu City) Shohoji Temple, and has a history of being produced from the days of Hiraizumi and Fujiwara 3 generations. There is. In general, there were times when it was not generally available with the Sendai-san system of the "Takeyama". In addition, the mass production of machine-carved coffins and fountain pens spread, and hand-carved coffin production has declined rapidly, but has been used by calligraphers and has reached the present. There were seven to eight craftsmen at one time, but now they are produced individually by Koji Sato.
how to use
Shiun Shikushi can be of orthodox shape, circular shape, or carved one. Stone color is beautiful, stone surface is smooth and is also used as ornamental and paper weight.
Main products
・ Shiun Shikushi: 3,000 yen ~
Manufacturing process
Raw stone → sorting of stones · grinding → roughing → main engraving → roughing → book polishing → undercoat → inner coat → top coat → finish
contact information
Ichinoseki City Office Higashiyama Branch Industrial Economic Section
〒 029-0302
Iwate Prefecture Ichinoseki City Nagayama Nakajima 105-1
TEL 0191-47-2111