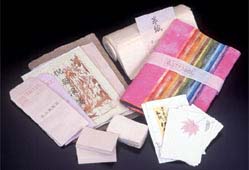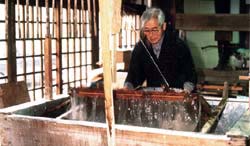 Main production area
Ichinoseki
Overview
Higashiyama washi, which is roasted mainly in the cold winter months, is a delicate, elegant, soft, strong paper that has a natural color and taste with an amber color. Shoji paper, calligraphy paper, certificate paper, colored paper, business cards, postcards, and paper towels are widely used. In addition, as a special product that makes use of the features of Higashiyama washi, there are strong and simple "paper cloth weave" and "Japanese paper" with gentle caress.
History / History
Higashiyama washi is inherited as one of Hiraizumi and Fuji originalization heritage in the late Heian period. In Higashiyama-cho (now Ichinoseki City), there is a district called Kamiagori, and it is considered from the place name to be the birthplace of Higashiyama washi. There are more than 100 papermakers in the town around 1965, but now they are also working as a sideline for the winter season, but as the old, almost 800-year-old paper, almost as a strong paper. It is inherited.
how to use
As well as Shoji paper and calligraphy paper, it is well received as a card for business cards and certificates. In addition, there are a wide variety of types and colors, such as postcards and stationery, printing paper, etc., and are widely used as folk crafts.
Main products
・ Postcard: 300 yen (10 pieces)
・ Colored paper: 1,250 yen (5 sheets)
・ Business card: 1,000 yen (100 pieces)
・ Pasins: 3,000 yen ~
Manufacturing process
Raw material → bleach → boiling → washing → dust removal → beating → paper plow → squeezing → drying → standard
contact information
Ichinoseki City Office Higashiyama Branch Industrial Economic Section
〒 029-0302
Iwate Prefecture Ichinoseki City Nagayama Nakajima 105-1
TEL 0191-47-2111