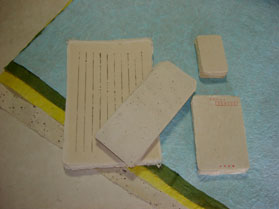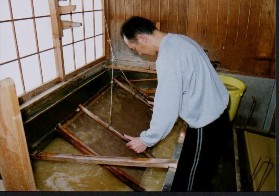 Main production area
Hanamaki
Overview
The characteristic of Narishima washi is that it is made from the skin of a moss (Koko) that is a deciduous shrub of the mulberry family and is uniformly mixed with the tenacity of "Noriutsugi" and boil it up in the cold with a mallet, making it unique in a rustic and tasteful manner. Japanese paper of the paper quality is made. Although the amount of production is small, it is fascinated by the paper quality, and it is still favored throughout the country.
History / History
Towa Town (now Hanamaki City) Narishima Narushima started washi making in the first half of the modern Japanese era (1661), and it is said that more than 50 farmers are producing as a sideline, paper sheets and shoji paper in Morioka, It was widely used as paper for paper lanterns. Now only one representative of the Narushima Washi Paper Production Association has inherited the technique. It is also processed into writing paper, shoji paper, colored paper, toilet paper, postcards, business card mounts and the like.
how to use
The processed Japanese paper can be used as it is or as a part of the interior. In addition, at the Narushima Washi Crafts Center, anyone can enjoy papermaking freely and can experience so that they can deepen their understanding while being familiar with washi.
Main products
・ Koko Paper: 360 yen ~
・ Stationery set: 800 yen
・ Japanese paper postcard: 1 sheet 100 yen
・ Name card mount: 100 pieces of 3,000 yen
Manufacturing process
Grated cut → cut steamed → black peel → black peel → cut → white peel → white simmer → white peel → beat slap → mix → mix → make nori ・ paste mix → paper plow → paper floor cassane → Dehydration → Drying → Cutting finish → Product
contact information
Narushima Washi Craft Museum (Narushima Washi Production Association)
〒 028-0116
Iwate Prefecture Hanamaki City Towa Town Kita Narushima 5 Ward 202
TEL0198-42-3948