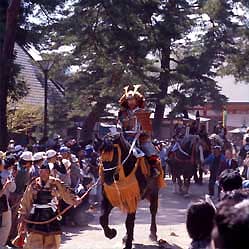 name
Spring Fujiwara Festival (Haruno Fujiwara Festival)
Venue
Hiraizumicho Hiraizumi (Chonson-ji-Moko-ji)
Opening period
May 1st-5th
contact information
Hiraizumi Town Tourism Association
tel: 0191-46-2110
Summary of the festival
Mr. Fujiwara Four generations of events, dances of the last year (important intangible folk cultural property), events related to the source Yoshitsune lord. On the 3rd, the "Gen-Yoshitsune Gokuto descent procession" will be held, and on the 5th, the "Benkei Rikitsu competition" will be held (which will compete for walking distance with a row of rice on one side). "The original Yoshitsune Kotokouri procession" reproduces the scene that when the Yoshitsune fled from the brother Yoritomo and finally reached Hiraizumi, Hidekazu Fujiwara was very happy to ride on a horse and greet himself, and the people also greeted him. There is. The autumn Fujiwara Festival takes place from November 1st to 3rd.
Origin / origin of the festival
Chuson-ji Temple is the main house of Chuson-ji Temple Ichiyama, which was opened by Jisho 3 years (850). The first Kiyoshin started erecting a tower in 1105, and was completed in 1130. However, most fires were burned down in 1337, and only the Golden Hall and the Keizo remained. The present Honbo was rebuilt in 1972.
Traffic access
5 minutes by bus from JR Hiraizumi Station