For the 1100th Festival of Yoshihara Kichihara
Mrs. Chikoshime of Sugawara Michizane, who was relegated to Dazaifu in 901, is the mother-child of Suizhou Gyeongsan County in the same year. She was distributed (with) three children and his servant to Ozawa's Maezawa-ku mother), and received a false report from Dokushin in 903 and died of illness in 906. The grave is located in Higashiyama-cho Higashiyama-cho Takatsu, Kozukodama, and as a part of the project of cultural property protection and town development, around this "tomb of kankofujin". The idea of creating a "town of the east" with the aroma of peace in 11 years comes up, and plans are underway to carry out the 1100th Festival of the Kichihara Kichisho Goddess on September 12, 2005.
In 1945, the village's local community historian was the founder and the 1000th festival was held, and exchanges with Dazaifu-cho, Fukuoka Prefecture continued from the Showa period, and Dazaifu Tenmangu 39th generation of 1994 visited Ichinoseki-shi Higashiyama-cho, Exchanges such as planting "Toei-ume" have deepened, and many worshipers from Kyushu are visiting in front of the tomb.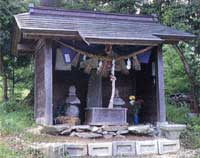 Government and the private sector work together
The town and the wife of the shrine's tomb historic site preservation group put together "the creation of" East wind "village in the back of the road where the scent of peace drifts", and are promoting the maintenance of the district around the wife of the shrine wife as a history park . We have already finished planting plum trees, acquiring land, and maintaining public toilets. In the future, we will proceed with the maintenance of the promenade and guide boards, the construction of Heian style buildings (Kankan, worship halls, sylvans, towers, etc.), the establishment of a farmer's shop and cafeteria, etc. While preparing for the annual festival, we are working on creating new sights that make use of local resources.