In connection with local resource "Tochigi"
In July 2001, three elementary school children from Hakodate, Hokkaido visited Tamayama Village (now Tamaoka Ward, Morioka City). The three are the winners of the Karuta Tochigi tournament held in Hakodate City. The purpose is to interact with elementary school children in Toyamagi, Tamayama Village through karuta.
Ishikawa Tochigi, who came from Tamayama Village, was chased after her hometown in May 1894, stepping on the land of Hakodate, Hokkaido. Staying in Hakodate was only about four months, but I met a lifetime acquaintance, businessman Miyazaki Hayashi, and was fascinated by a neat figure, and later a love song for her in the "Song of One Hand" 22 It was a place of memories, as I had an encounter with my co-worker, Chieko Tachibana, who had a neck. It is said that Tochigi's letter to Koiyu "If I die, I will go to Hakodate and die," and although it is not well known, the tomb of Tochigi is in Hakodate city.
In addition, Tochigi, who was a substitute teacher, invited children to his home, and was said to have played Karuta.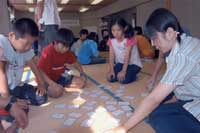 Further development of the past exchanges
Tamayama and Hakodate have been engaged in player exchange at each marathon event and dispatch of instructors for Ishikawa Tochigi Memorial Hall and Hakodate City Literature Museum. However, there was no interaction between children other than junior high school students visiting Tamayama for school trips.
This time, with the offer from Hokkaido, several people including the Karuta tournament winners of Hakodate City came to the "Wanpaku children's seminar" sponsored by the Tamayama Village Board of Education, and held the Karuta event together.
"I would like to further expand the exchange between Tamayama and Hakodate," said the director of the Ishikawa Tochigi Memorial Hall.
Link
Iwate's Cultural Information Encyclopedia (Iwate no Yukari people, Ishikawa Toshiki)