We are excited by "charcoal festival"
The birth area is about 17 kilometers northwest of the central city of Rikuzentakata, and about 5 kilometers from Yamagata-cho Futamata on National Route 343. It is a quiet mountain village, with about 120 units and a population of about 450. It is a small area that is best to call it a hidden village.
The birth village plays a part of gold mining centering on Tamayama Kanayama, which once supported the golden culture of Hiraizumi, and in the 1600's, it works as a barber shop (a place to make iron over "Tsatsura"). There was a huge amount of charcoal production. In the Meiji era, sericulture became popular, and in 25 years a limited liability production yarn production and sales association was established with local capital. There is also a history of direct transactions with the United States.
On November 15, 1987, the "First Generation Ibaraki Charcoal Festival" was held by the Birth Area Community Promotion Council, which unifies the organizations that had been active individually. Efforts to use local resources charcoal to make many people aware of community development and production have since been held on the last Sunday of October every year, and are crowded with visitors from afar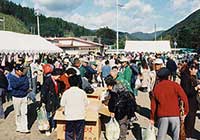 Spur in exchange for completion of "house of charcoal"
A long-awaited "charcoal house" in the district was constructed as a receiving facility for rural experience-based tourism (green tourism) of urban residents, with the aim of revitalizing the area utilizing cultural resources of the mountain village and expanding the exchange population. The interior consists of 3 rooms with 8 tatami, a training room of about 20 tatami, a central hall that doubles as a common fixtures exhibition room, an agricultural products processing research training room, a bathroom, and a charcoal grilling experience with 3 anthrax in the site. The training facilities and charcoal utilization research facilities are fully equipped.
This is a city facility, but the birth district community promotion council has entrusted management administration, but when you ask about the management situation, "in Yomiuri Shimbun evening one page of December 4, 1998," of charcoal grilled When it was introduced under the title "Satome," I immediately got inquires from about 50 people, and I visited about 10 pairs from Shizuoka and Ibaraki Prefecture. There are many people who think that it will be finished in one day when put in the pot, and one more idea is needed to utilize the facility as experience-based sightseeing and exchange. "
After that, a woman in her 50's from Ibaraki Prefecture, a 19-year-old man from Kanagawa Prefecture, applied for an experience, and in 12 years the Board of Education in Edogawa Ward, Tokyo, visited the place for experience learning. However, the "city-rural exchange", which is the ideal, has not yet been established. After all, as Sato says, something of plus alpha will be necessary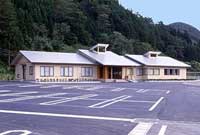 College students learn how to live in forestry experiences
In September 2003, Rikkyo University students worked on a forestry experience program. With the aim of rediscovering oneself through communal living, I deepened communication with people in the area while experiencing charcoal grilling and pruning work on a 5-day, 6-day schedule.
This program is sponsored by the Rikkyo University Student Department. A total of 20 people from first grade students to graduate students participated, with the purpose of allowing the participating students to review their own lives and think about how to live widely. The birthplace area was selected by accessing the "Horotai Town, Charcoal House" via the Internet, and the fact that the charcoal-burning experience caught my eye is said to have started.
So far, the Student Department has been learning organic farming in Takahata-machi, Yamagata Prefecture as part of fieldwork experience learning, but from now on, we are planning a forestry experience program in the birth site. City backs up as forest experience interchange business.
The party who entered the "Charcoal House" quickly challenged with "Inaka tofu making", and on the second day she sweated the construction work at the training facility. The students started with "Kamabuchi" work to remake the anthrax, and experienced the "Kawarete" work to put the wood into the coffin.
The participants stated, "If you have the opportunity to share work and life in the mountains and have various perspectives through interaction with local people. We will continue to use it as a place for continuous experiential learning" We expect from result of forestry experience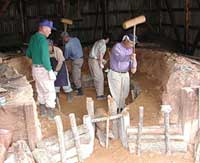 Main award history 1996 Love Land Iwate Prefectural Campaign Conference "IWATE Hometown Award"
1996 (Japan) Association to create tomorrow's Japan "hometown promotion promotion encouragement award"
1997 Iwate Prefecture vitality of our own contest with excellent villages 2003 Iwate Prefecture mountainous area model award
Link
Birthing district community promotion meeting (Rikuzentakata city)