Cooperation exchange born from river
During the Ryukyu period, when the river was the center of goods transport, the port towns of various places created their own cultural sphere as a base for exchange and cooperation of the basin. Watersides have been moved away from life with the transition of transportation methods, but in recent years hydrophilic businesses seeking restoration of rich humanity have been developed throughout the country, and at the same time opportunities for exchanges have also increased. Therefore, there is a need to create a safe, fun and friendly waterfront space, and an e-boating event mainly for exchanges is being held nationwide in early September, with Ichinoseki City as the main venue.
What is an e-boat?
E-boat is a completely new type of rowing boat that anyone from children to adults can easily row, and through regions such as boat competitions, exchange tours, and water practice, you can enjoy the region and region Thinking about the connection between people, nature and human relations, etc.
E-boat "E" includes Exchange (Exchange), Environment, Earth (Earth), Epoch-making (Important), Ecology (Ecological), Energy (Energy), Education (Education), "Good Boat" There is a meaning such as.
The Kitakami River Basin Exchange E-Boat, which started in 1995, has been canceled every year since 1998 and 14 years, although it was canceled due to heavy rainfall. In addition, in 1999, it became the venue of the national convention. Through the holding of the rowing boat race event, we aim to enlighten the multifaceted use of the river space on a daily basis, promote exchange and cooperation of the basin, and promote and spread hydrophilic activities that contribute to regional revitalization.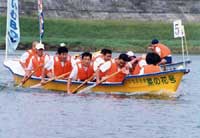 What is the actual tournament?
The "Kitakami River Basin Exchange E-Boat Committee" is Ichinoseki City, Hiraizumi Town, Ichinoseki City Board of Education, Ichinoseki City Physical Education Association, and "Kitakami River Basin E Boat Staff, with a focus on local residents. It is composed of "Conference". There will be 100 entry teams for the tournament, which will be held at Kitakami River near Kitakami Ohashi (Ichinoseki City Kawasaki Town Fuso and Ichinoseki City Ryoei). As it consists of 10 people in 1 team, 1,000 players gather alone. Two races in a time trial system. The top time will be used to determine the ranking, but the teams from 1st to 5th will decide the final ranking by the final race. King of Boat title for the winning team, Queen of Boat for the second team, Night of Boat for the third team, Best Energy for the fourth The "Best Family" and Special Awards are given the title "Best Performer" and additional awards.