Purpose of the Ecomuseum
"Eco-museum" means "Care the local environment and use it like a whole museum. And protect it."
The Kitakami River Middle Basin Eco-Museum Promotion Council is a group that aims to preserve the local environment, preserve cultural heritage, and revitalize the area, and is a museum "Eco-Museum" that lived in the history, culture, natural environment etc. of the Kitakami River middle basin. The traditional natural environment, history, and culture of the Kitakami River middle basin, we regard the water, the atmosphere, and the earth surrounding us as a whole, and regard it as a living museum "Eco-Museum", April 1999 Established in March 2012 and acquired an NPO legal personality.
There are about 70 members and 17 groups.
Through various activities
The specific activities are mainly in three areas: activities to promote culture, art and sports, activities to protect the environment, and activities to promote the sound development of children.
(1) Activities to promote culture, art and sports
・ Holding a regional revitalization forum ・ Holding a photo exhibition ・ Holding a canoe rubber boat river descending competition ・ Holding a monthly cycling event ・ Making research on the nature, history and culture of the Kitakami River middle basin and creating and disseminating a data base.
・ Creating and distributing eco-maps
(2) Activities to conserve the environment
・ Participation in the Coast Sequestration ・ Cleaning of the riverbed ・ Beautification of the riverbed ・ Release of waste
(3) Activity to plan healthy upbringing of child
・ Hold the observation meeting of the flora and fauna of the waterside ・ Holding the wild bird observation meeting ・ Hold various learning meetings such as making a pressed flower, PC ・ Holding the Kitakami river end day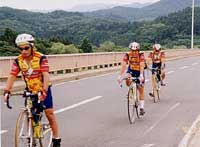 In 2003, "Natural observation society in autumn (August)" "Natural spawning observation society of salmon (October)" "Water quality survey (November)" "Romantic water highway activation forum (November)" etc. It is being held.
Maintenance around cycling road and walking road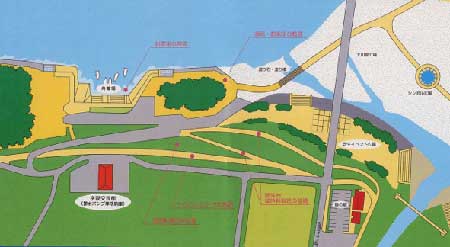 Aiming for more fulfilling activities
"It is difficult to hold various activities with financially meeting fee only alone. If the subsidy from the River Foundation and Promotion Bureau can be received this year, Kitakami River canoe rubber boat" For this purpose, we will apply for various subsidies as well, and in the future we will create a map of the river area around the middle of the Kitakami River basin, waterside plaza, ditch day, regional revitalization forum holding, issue of organization paper I want to do something like that. "