Horizontal axis cooperation in National highway No. 46 · 106
Routes 46 and 106, which connect Akita and Iwate, have played various roles called "Michi" as an entrance for many industries and cultural exchanges, and as a highway to activate the traffic of residents and travelers. Akita-Iwate Horizontal Axis Cooperation Exchange Meeting is useful for living, which is difficult for both the administration and the individual, with the aim of creating a deeper understanding and interaction in both areas, with a closer look at this irreplaceable "Michi" We are planning to promote specific activities as a gathering of consumers.
The exchange meeting, which was established in September 2000, initially had its secretariat in Morioka, Akita and Miyako. With the certification of the NPO corporation in June 2001, the Morioka secretariat is relocated to the station on the same road (July 2002) with the opening of the road station "Asoishi Anekko", which serves as an exchange base (July 2002). It was commended by the Japan Road Association in August as a road project contribution group.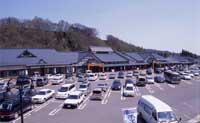 Organization is five divisions
Akita Iwate horizontal axis cooperation exchange meeting has a five-member system.
The theme of the "reliable safety" section is "more" reliable safety ". In the event of a road accident, we will further promote lifesaving measures that should be prioritized the most, with a concrete system that protects everyone's" life " We are working on the improvement of a certain "rescue, communication and transportation". At the same time, we aim to train as many "driver masters" as possible while taking up the snow road running in winter always dangerous and experiencing practical skills and experiments.
The theme of the "City Development" section is "City Development" which is truly livable. We investigate the circumstances of each town causing traffic jams in the morning and evening and on weekends, and practice mechanism recommendations and exercises to eliminate them. In addition, based on the idea of "normalization" that all residents can use comfortably, it proposes the review and improvement of roads and various facilities. Concrete activities include implementation of "town, traffic forum", establishment of check town committee making comfortable town (making check map of town from the viewpoint of safe and secure), beauty SIGN beauty road movement committee (unify with sense up of SIGN) Children's Road Ranger Committee (promoting opinion leaders in programs that include experiences to protect the city), and a rich night city development committee (family and elderly people are cheap) It is possible to take a walk in the "night city" and create a central urban area where you can enjoy walking.
"History and culture" section reconsiders the history and cultural heritage related to the road on the theme of "history and culture" rediscovery and re-recognition, review one's own city again, and it is a new while crossing events We encourage you to make "○○ Road" that will trigger you to find attractive points. Furthermore, we consider "Michi-no-Eki" as a facility that is deeply related to local , and think about new utilization methods that do not focus on products alone. The implementation of the Kizuna Forum and Kaido Forum is also the role of the History and Culture Committee.
The theme of the "Public Relations and Exchanges" section is "Easy to understand," Public relations and exchanges ". By creating useful maps by purpose, providing up-to-date information on the website, and event-type information that can be enjoyed while participating, we expand knowledge and experiences that are useful for living, and plan to interact with more people. The city planning committee with an anniversary of another prefecture or city (establishment of an anniversary with a prefecture and a city crown each other for friendship promotion), creation of news from exchange meetings, website creation is the main activity content.
The "Children's Exchange" section has a theme of "Children's Exchange", which considers children's perspectives. We plan interchange of children positively and think about "michi" which we saw with children's eyes together and try for upbringing of road master of the future, and figure committee of area spelled with picture book (area "picture book and picture-story show "Handmade caravans", Comprehensive learning (environment-related) support committee (supporting the learning of general education in elementary and junior high schools), "PC to school!", "High school student career meeting" etc.
Link
NPO corporation Akita Iwate horizontal axis cooperation exchange meeting