In the case of Morioka, in the case of the family members of the southern part of the family, including the family, the three families, and the more than 1000 stone "Tochi" people lived with the palace palace in the inner circle of the castle.
These houses have "Otogomon" Tsukiji, and tea ceremony and noh play are also possible.
Kochi and less are called "Heiji", and in particular the Hashi mansion with castle of less than three hundred stones is obliged to make the building 30 to 51 tsubo and make the entrance inconspicuous according to the tsubo.
The composition of the room also differs greatly depending on the family rating, and in a low-class residence, the official residence and side entrances such as between the house, the front room, the meeting room, the meeting room and so on are omitted and reduced. It is divided by a door shoji, and the whole is being used like a sleeping room.
Representative samurai in the prefecture
Sinouchi Suwakoji
During the Edo period, Kanegasaki-cho restored the castle hall to the temporary town temporary house in Shopo 2 (1645), while Sendai lord and Date's servant Oizumi worked to restore the castle hall until the Meiji Restoration destroyed the Makuhari system, the ninth generation・ We ruled for 227 years. In the Suwakoji area in the castle, there were 11 buildings at that time, and the streets remained almost as they were. We received selection for the first time in the prefecture as "important traditional building group preservation district (denken group)" from the Agency for Cultural Affairs in June, 2001.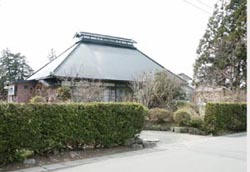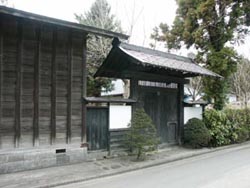 [Location] Kanegasaki-cho
Related Links: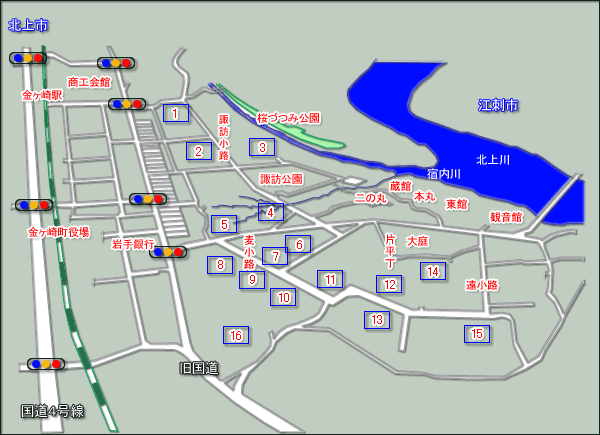 Kanegasaki Samurai Residence Map
1. Detailed home garden
2. Sakamoto family
3. Kanegasaki Shrine
4. Soeda family
5. Sakamoto family
6. Endo family
7. Ito House
8. Onuma family
9. Miyoshi family
10. Sugawara family
11. Sato family
12. The Omatsuzawa House
13. Aoi family
14. The old Onuma house
15. Suzumori family
16. Cao Dong Mun Taiyo-ji
Concentric house
Muko-Gumi Town (now Sakura Town), in which concentric houses are placed, is located south of the Toyosawa River, which should be called the outskirts of Hanamaki Castle.
According to the "near Goumigumi town map" of the end of the Edo period, Ansei 5 (1858), there were a total of 30 concentric residences, 15 each in the east and west, across the Oshu road running north to south. .
The remaining concentric houses are the former Hirano family and the former Imakawa family, purchased by Hanamaki City in 1970, and relocated to the current location. The former Hirano homes are L-shaped and the former Imagawa homes are It is a U-shaped building. Both are Hanamaki City designated cultural assets.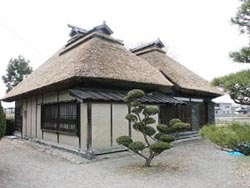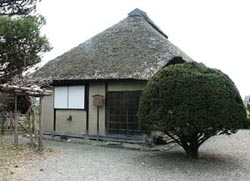 [Location] Hanamaki City