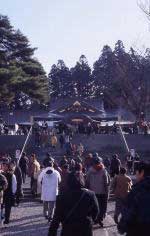 At one time, there were "Jyoya Dei" and "Ganjitsuyo" which served on New Year's Day. It is a convenient way to go to a shrine or temple from today's late morning to the New Year, listening to the bells of the night, listening to the bells of the night, and having the night sun and the Rising Sun one at a time.
In addition to the first shrine, worship of the shrine is generally "two applause one worship". First of all, I will make a small chopstick (Shoyu = lightly lower my head), and I will go a little and abyss (Shin Yu = deep my head). I will do two worships (twice, most salute), two applauses (twice, clap), one worship (once, my best salute), and retire slightly after the abyss.
The following shrines and temples are visited by many first-time guests a year.
【Nationwide】
Meiji Jingu Shrine (Tokyo)
Naritasan Shinshoji Temple (Chiba Prefecture)
Kawasaki Daishi (Kanagawa Prefecture)
Fushimi Inari Taisha (Kyoto)
Atsuta Jingu Shrine (Aichi Prefecture), etc.
【Iwate Prefecture】
Morioka Hachimangu Shrine (Morioka City)
Chusonji Temple (Hiraizumi Town)
Shiwa Inari Shrine (Shinami Town)
Komagata Shrine (Oshu City)
Motsu-ji (Hiraizumi-cho) etc.