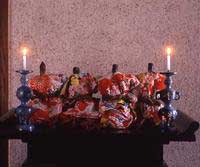 Oshirosama faith that has long been known in the Tohoku region has become widely known by Oshirosama legend (the story of the sad love of horses and daughters) by Kunio Yanagida (Yanagikuni) 's Tono Monogatari (Meiji 43).
There are two types, Baotou (Hou-toi = Wearing a cloth from the head) and Nite-no-gi (Kantoi = Out-of-neck), and it is considered to be the god of sericulture (Yosan) It is generally accepted that some homes have various benefits, such as general farming work, eye diseases, women's diseases, and gods who inform them of good things. About 1,000 Osirasama are enshrined in Tono Shinto Garden of Tono and Traditional Garden, and it is the power of the masterpiece.
The festival takes place on January 15th (or 16th), and relatives and villagers gather and wear a new piece of cloth called "Osenku (or Oshizu)".
Related Links