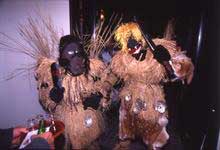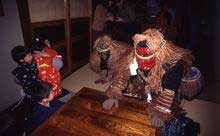 It is a unique custom of the coastal area for visitors visiting the homes as a dress on the evening of the lunar new year.
In the Kuji region, it is also referred to as "Namomi / Namami", in the Miyako region as "Namokitari", in the Kamaishi region as "Sneka", and in the Ofunato region as "Snecatakli".
The visitor, wearing a scary wooden face, wearing a bow, wearing a knife and a sword, threatened to say, "I will peel off the fire with a shin" to distract the lazy. You Currently, it seems that there are few places that are actually being done.
event date
January 15
Venue
Ofunato City Sanrikucho Yoshihama
Contact
Yoshihama Suneka Preservation Association
TEL. 0192-27-3111
※ "Yoshihama's Suneka" has been designated as a National Important Intangible Folk Cultural Property.
Related Links