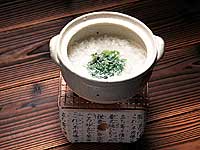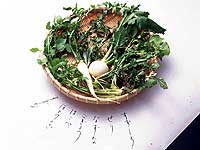 There are two major lines of the seven plants, which are roughly divided into the following.
It is said that it is not a disease when eating the seven herbs in New Year's Day with a lightly salted salmon (rice porridge) cooked with the spring seven herbs Seri, Nazuna, Gogyo, Hacobella, Hakukenosa, Shizuna (kabu), Shizukuiro (radish) , Are eaten in various places.
Originally, it is rice bran that contains seven kinds of rice, such as rice, eel, eel, oyster, and azuki, and later it becomes omelet rice. In Tono, daikon radish, burdock, carrot, tofu, konjac, and seri chopsticks are put in azuki bean paste, and in the Ninohe area, seri and kelp are put in a chopsticks and eaten. It seems that there is an area to eat on the 15th of February.