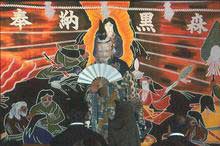 On the Sanriku coast, there is a custom of "Samurai Kagura" that shows dance while visiting various places in public areas and private houses in each district for more than two months from New Year's Day, praying for disease freeness and five grain riches. Kasumi refers to the "masters of each district (local strong men and celebrities)" in each district.
Kuromori Kagura of Miyako City (Kuromori Kagura) and Utotori Kagura (Puyori Kagura) of Fushiro Village are alternated every year by north rotation (up to around Fushiro village and Kuji city) and south turn (around to Otsuchi town and Kamaishi city) I will show you the kagura. Both were designated as "an intangible folk cultural property which should take measures such as record making" as "Song of the land and the coastal area" in 1995.
Kuromori Kagura has been handed down by a group of Shugen Yamabushi, which is headed by Betofu at the Kuromori Shrine in Yamaguchi, Miyako City and travels to Kuromoriyama. However, other than Miyako city, it is inherited by volunteers such as Iwaizumi-cho now. It has a very important ritual practice, such as dance, dance, tombs, pillars, fire-bent prayers, and bodies, and it is a valuable presence in the history of performing arts as it has a wealth of programs.
Kotobuka Kagura is a kind of "Yamabushi Kagura" that has long been known as the Kotobuka Shrine in Fushiro Mura Torii, and inherits the form of Yamabushi Kagura that is said to have started from the Kamakura period. Today, it seems to have changed to "Utori", and it is said that it is a nationally valuable Kagura as a Kagura that inherits the Noh pattern, and it is a three-time rough It is characterized by being bravely danced to the rhythm.
Related Links