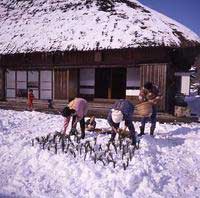 It is a widely held event in the Tohoku region, and it is an event to pray for a good harvest in autumn by putting a snowy garden into a "rice field" and planting pine needles and rice straw. It is widely held in the prefecture south region. It is one of the events of "Farming Hate" which is a ritual for the beginning of a year's farming work, and there is also a region conducted at the time of the Lunar New Year.
It is common for the family's owner and family to carry out the celebrations, but in the Morioka district, once there was a custom that a large number of Saotome (Shotomeme) came out of the town and went around the farmers to carry out the celebrations of gardening. .
Other than being carried out now by farmers in the prefecture such as Tono City and Nishiwaga Town, you can also see "All-Japan Farming Gathering" held every February on Saturday in Oshu City.