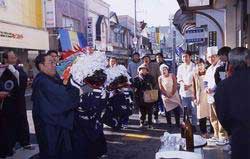 Depending on the area, it is called "gate-by".
Stand at the door of a house or a store, play music and perform performing arts and walk, or say that person.
Speaking of the gate of New Year holidays, "Shishi dance" is known nationwide, but in the prefecture, "Shishi dance" is called "Daikagura". In addition, there is also a region that performs Kagura's Gongenmai.