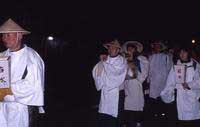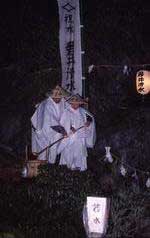 A traditional event in Higashiyama-cho, Ichinoseki that tells the new year.
In the era of Hiraizumi Fuji original culture, it was reproduced on the basis of a legend that Shuen-kun made the villager squeeze Wakamizu of Aoi Shimizu on the morning of the New Year's Day, and sent it to Hiraizumi Yanaginosho by hand. It is an event of the Japan-Russia, which has been held since the year.
A group dressed in old-fashioned white dress (white costume) costumes delivers Wakamizu by walking the road about 20 kilometers from Higashiyama-cho in Ichinoseki city to Hiraizumi Chuon-ji without putting Wakamizu-don on the ground. The two people who rise between the two towns in the midst of severe cold, 180 people relay from hand to hand.
event date
From January 1st at 0 o'clock
Venue
Ichinoseki City Higashiyama-cho Matsukawa Yuiri (Saioi Shimizu) ~ Hiraizumi-cho Nakasonji
Organizer
Sakurai Shimizu young water sending executive committee
Contact

Ichinoseki City Higashiyama Town Board of Education Corporate Education Division
TEL. 019 1 47-2 111