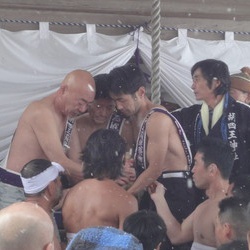 name
Hu Siou Shrine Suminsai Festival
Venue
Near the approach to the main shrine from the temple hall (company hall / satomiya) at Hanazawa-shi Yazawa Hu Siou Shrine. The decision site is the one torii.
Opening period
January 2
Contact
Hu Siou Shrine
tel: 0198-31-2768
Link
Iha Toub Hanamaki (Hu 4 King Shrine Suminsai)
Summary of the festival
January 2 at 9 am Mochitsuki 9:30 am Praying year festival (company office, hall of worship)
10:00 am Naked (departing in front of the office)
10:30 am Purification Festival · Battle (within the summit)
Origin / origin of the festival
It was started in the first year of Keio (1865) based on the narrative of the future of the people, because the incurable disease of unknown cause spread in the Hanamaki region. After the war, it had stopped for a while, but it was resurrected by the hands of the 1974 Shishiko Youth Association and has reached today.
Beginning with a prayer year to be performed at the Hall of Fame in order to ensure disease freeness, business and industry prosperity, domestic security, national security, and five grains of richness, start with a white headband figure with a white headband, winding a long rope around the waist, a white footbag with straw. Following a naked appearance with a baku figure, a torchlight is lit in front of the summit, and after a clean fire festival that cleanses the inside and outside of the precinct, it is a major local event that boldly fights over one Sumi bag in the same ground. is there.
Traffic access
・ JR East Tohoku Shinkansen ・ Kamaishi Line About 1 km from Shinhanamaki Station 20 minutes on foot ・ Tohoku Expressway Hanamaki South IC get off 15 minutes
Applicants
Please complete reception at the office and office by 9:00 am on January 2nd. (Participant fee 500 yen)
There is no recognition for the Sumin Festival contest except for the participation in the foot bags and lower belts. Tabi and lower belt will be prepared on our side.