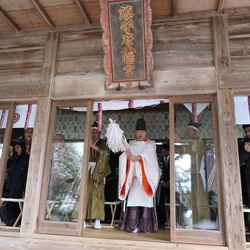 name
Hachimangu Case Addo Citizenship Festival
Venue
Oshu-shi Mizusawa-ku guardian deity Hachimangu
Opening period
Lunar New Year January 8
Contact
Hachimangu Shrine
tel: 0197-24-6791
Link
Hachimangu Shrine
Summary of the festival
10:00 am to 12:00 am Hall (There is no battle.)
Contents: At 10 o'clock, the conch is blown. Meeting guide to the hall of worship. Congratulations are enshrined by the priest and the names and number of families of the person who accepted the reception are read. It was enshrined in a voice high voice saying, "I will put a bow in the Saigaki of Hachiman and I will not come to the devil in the direction of the arrow", and at the same time the sword and arrow will be projected towards the south sky, He yelled, and while stepping on his feet, he claps his hands violently. Do this twice.
Origin / origin of the festival
Jiseiko, who came to the Chishu Office (850), knew that he suffered from the disease in the area and suffered from a disease that was said to be dedicated to the death of the people, and healed the Hachimangu Shinkokai to get rid of the plague of possessing a large master. The amulet ("Somi no bou" or "crow") was dedicated to pray for the suffering of the common people to the Hachiman Daijin. The origin of this "Somi no bou" is "When a master comes in, when he suffers from a major illness, it is sweet like its taste when it is eaten. Three times to drink. After ten days I was physically fit, my eyes were clear, and my heart was clear. The leaves and flowers are printed in the shape of this mokuwa as a statue of medicine god, printed on the night of the seventh day of the new year and pressed on a blank sheet, and praying for national peace, devilishness, various disease eradication in the early 8 days Stick on the door of Shishi. It is said that plagues and disasters do not enter this gate. Later, this medicine deity was named Tenno Ushido, Susano Onokami, and so-called "Som-n-bo" according to the future of the civil society. This is the current "Suminsai".
Traffic access
-About 10 minutes by car from JR East Tohoku Main Line Mizusawa Station-About 5 minutes by car from JR East Tohoku Main Line Kanegasaki Station-About 15 minutes by car from JR East Tohoku Shinkansen Mizusawa Eishi Station-About about drive from Tohoku Expressway Mizusawa Inter 5 minutes
Applicants
From January 9 at 9:00 am on January 8 of the Chinese New Year, reception desks for staff and staff have begun at the office. The sons of the temple, the staff members dedicate the number of rice and money, or the number of sake, etc. as "Congratulations, Gods" and tell the householder's name and the number of families. After the end of the festival, the sons and sons will receive a bill of crows, the Hachiman Shrine Treasure Mark. ※ There is no battle.