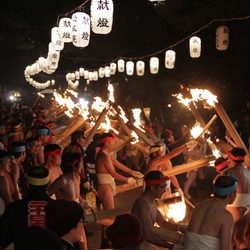 Summary of the festival
3 pm Dedication Ceremony 4 pm Early Night Acts 6 pm Afternoon Act 7 pm Goma Prayer 8 pm Dedication Arrival (Sumin Festival)
Maiden dedication of 9:00 pm
Origin / origin of the festival
It is the day of the spring prayer day of the inspiring "Makara God" which is the festival deity of Motsu-ji Temple Tojokodo. The Sumin festival was reported from Kuroishi Temple in Mizusawa Ward, Oshu City in 1902 and was held at the 20th Night Festival. It was canceled for five years from 1959 (1959), but in 1965 (1965), it was resurrected by the current enforcement method led by Motsu-ji.
Traffic access
-From JR East Tohoku Main Line Hiraizumi Station, 0.7 km (7 minutes on foot, 3 minutes by car) from Moshi Temple
・ About 15 minutes from Tohoku Expressway Ichinoseki IC About 10 minutes from Hiraizumi ・ Maezawa IC
Applicants
There is no general request for participation as it is limited to the 42-year-old year that belongs to the course.