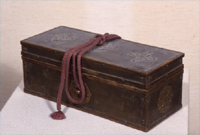 | | |
| --- | --- |
| Designation | Prefecturally-Designated |
| Classification | Arts and Crafts |
| Designated Date | April 4, 1978 |
| Amount | 1 |
| Address | Aza-Osawa, Hiraizumi |
| Holder | Motsuji |
| Retainer | |
| Administrator | |
| HomePage | Hiraizumi's Cultural Heritage |
Summary
Total Hight 12.3 cm
Length 34.4 cm
Width 14.1 cm
Depth 9.1 cm
It is a box and a lid with Inro-dukuri style.
The body and the lid of the box are brass-foiled (except the bottom part), and the wide and thick gilt bronze rims are fitted all edges of the box with rivets.
Various gilt-bronze decorative panels are fitted on every surface of the box, Katsuma and Rinbo ornaments are on the top, Rinbo is for the long side, Rinbo and Katsuma for the short side, and gilt-bronze Sankosho (the shape of a cross with three prongs on each arm) for each corner of the box and the top.
Inside the box, brocade (decorative colorful cloth) mounted all around, all others lost but one.
There are metal washers on both sides of the box, with purple tie.
The decorative boards are thin, with openwork and finely engraved lines.
It is used to contain the equipments and small objects at the time of important Buddhist ceremony ceremonies like Kanjo. However, it is very rare to keep existing box like this.
Furthermore, it came over Japan from China at the time of Muromachi period, made of precious brass and kept the original shape almost perfectly.