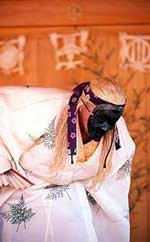 Summary
Ennen no Mai (Longevity Dances) are performed following Jogyozanmai-Shuho (a special prayer rite) after Matara-jin Sai (the festival of Matara , the deity of harvests ), and is also called as "Dai-Houe" (Buddhist mass) or Haru-Shinji (spring rituals).
It has been performed as a ceremony inside sanctuary of Jogyo-do Hall. The performer prepare himself in sanctuary, and senior monk who perform the Noh musician come out from Rou-so room.
At the beginning, "Notto"(ritual prayer) of  "Ogan-enman", "Sokusai-Enmei" and "Senshu-Banzai" are chanted. Then , followed by the dances of "Dengaku-odori", "Romai", "Karabyoshi", "Roujo-Mai" "Jakujo-Mai" and "Kyodono-Mai".

Generally speaking, "Ennen" is the very important fork culture in order to research the historical arts, like the court dance, music and Noh in mediaeval times. Particularly, this " Motsu-ji Ennen" is incomparable and has great value, because of the near-perfect preservation of their original form.
Photo