Iwate Prefecture during the Shosei period was the domain of the four islands of Morioka-an, Hachinohe-an, Sendai-an and Ichinoseki-an.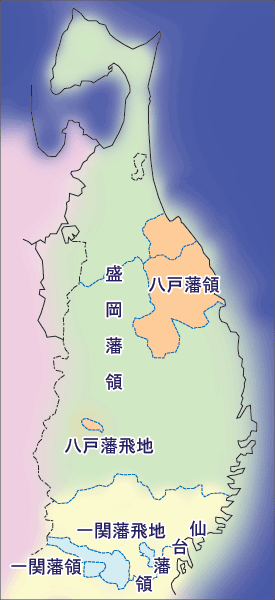 The fourth base territory Morioka Pass and Hachinohe Pass
Morioka Pass and Hachinohe Pass
Morioka Samurai was ruled by Mr. Minami, who is an outpost of 100,000 stone (200,000 stone later), and it was ruled by the associate national lord Mr. Minami. Since Nobu Nao, he has been in the 16th generation and continues until 1870, when he goes ahead with the ruins of the other shrines. The Territorial Territories are from Kitagun (Shimokita and Kamikita Gunguns in Aomori Prefecture) to Sanno (san's To, Santo County in Aomori), Nichinohe, Kuchinohe (Kunohiro), Kakaku (Akita Prefecture), Hatei, Iwate・ It consisted of 10 counties of Shiwa (wrinkle), Hianuki (・) and Waga (わ), and it was so large as to be called "the southern territory until the circle of the crescent moon". Mr. Asanuma's former territory, Tono, who died in Toyotomi Hideyoshi's Okuha, was a defensive base in contact with the Sendai corps, so the second generation lord, Toshinao, was Kanaya 4 (1627 ) In the year, he moved his family, Naoyoshi Hachinohe, from Happone Castle (Nejo) to Tono and Yokota Castle. As a result, the prestigious Hachinohe from the Middle Ages will become Tono Nanbu, and will eat 12,500 stone corpses, and will maintain honor as a Mokukunidai (commitment with a county magistrate and a police officer).
Because the third generation lord, Shigenao (Shige Nao) got sick without deciding dumplings in 1664 (1664) year, the bereaved 100,000 stone is the two brothers of Shinao, Shichinoshi Shigenobu (Shichi no Shigene) It is divided into eighty thousand Morioka Morioka and eighty thousand Hato in Nakaso Naobo (Nakasa and Naofusa), and the Hachinohe couple is born. The territory of Hachinohe Pass was 41 villages in Mito-gun, 38 villages in Kuto-gun, and 4 villages in Shiwa-gun. Morioka Sakai is then revived to 100,000 by being added 20,000 stones in Tenwa 3 (1683). Furthermore, the area was upgraded as it is to 200,000 stone as it is by the protection of the East-West fortified area in the culture of the age of the 11th generation lord / tradiance (Toka) 5 (1808), and Morioka-san welcomes the Meiji Restoration . In addition, to his honor, he added 6,000 stones to the Shichinohe family, which had 5,000 stones known during the age of the five generations lord Yukinobu, and made him appear as a 11,000 stone in Daimyo The This is the occurrence of the Shichibe Pass just after the Meiji Restoration.
Sendai Sakai and Ichinoseki Sakai
Sendai Kashiwa is a 620,000 stone outer-gate large-scale, ruled by Mr. Kusunoki Daina. It has been in existence for 15 generations since Aozora Masamune. The present Kesen (Ken), Higashi-Karai (Ishiniwa), Nishi-Karai (Isawa), Esashi (Esashi) area in Iwate Prefecture belonged to Sendai Territories.
Ichinoseki Rin was erected in the year of Manji 3 (1660), while Sueso Soshu's first Masamune's Suesune Sogo (Munekatsu) stood with 30,000 of the 62 million stones, and then the Kanbun 11 (1671) year's Kanbun case ( It was temporarily cut off in the Date uproar, and after that, Muneyoshi Tamura's son, Takeaki, joined and was revived. The territory consists of 11 villages in Nagai, 11 villages in Nagai, 11 villages in Higashiyama, and 2 villages in Sanori (Kurihara) County, and most of them are in Nishinoi, Higashiiwai County, Iwate Prefecture. It is in the county and has been in the 11th generation since Aozhen Jianqiang. In addition, Kenken is also known as "Corridor Bite Case of Edo Castle Matsu", known for "Chodaomikura", where Akaho Castle owner Naganori Asano has killed Yoshina Yoshioka in Edo Castle. It is also known that she kept her and made her angry at Edo. Ichinoseki lord was treated as "Vassin" from the Sendai lord, and received the same treatment as a single gate, but from the Edo Shogunate he was treated as a direct adviser (a person who reports directly to Jojiki), in an independent daimyo did.
With the Kanbun case (Date disturbance)
Manji 3 (1660) Date Tsunamune is a secluded residence by Shogunate, and the young Seko Kame Chiyomaru (Tsunamura) holds the family general. The Date Army Club Shogun Soshukoshi (uncle of Tsunajong) took control of the reign with Tamura Ukyo Soryo and Fushimi Harada Kai Soshu as guardians. The late Otomu Date Akisunege disputed this and appealed against the Shogunate, while on the seat of the judgment of Kanbun 11 (1671), Soeshi was killed by Kai Harada, Kai also died at that spot, Sogoshi kept with Tosa, Muro was closed.
Iwate's Cultural Information Encyclopedia (Iwate Castle and Hall: Ichinoseki Castle )