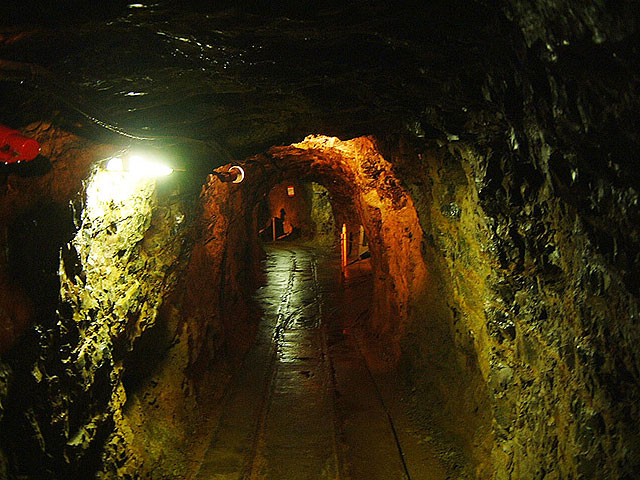 In the tunnel
Development of Kanayama at Morioka Sakai
1590 years (1590) Hideyoshi Toyotomi of Oshu punishment by, it is certified territory of the warring lord our northeast around. At this time, Kazuno-gun became the residence of Nanshinao (Nanbou Nobunato, later Morioka Mazu), based in Sanno (Minoto-cho, Aomori Prefecture). However, it is more than 10 years later that the whole of Kanago County is decided by Mr. Nan, and Akita, Mr. Satake who joined later, and Mr. Ohura (Tsugaru) whose jurisdiction is adjacent to this region The dispute over the mining area seems to have continued for a long time.
First of all, Shirane Kanayama (later Komaki Kanayama) followed by Fifty sheets, Nishimichi, Mt. Osarizawa) are various Jinshan is the development of, "Domo Nare rural southern part of the country west also east also gold of the mountain," said folk song- entwined clause will celebrate the gold rush that is sung to, such as (Kanayama dance).
It is reported that over 100 gold mines were developed in the territory of Morioka Pass during the Shosei period, but the most popular were Sabinai (Sanai) Kanayama of Shiwa and Shirane Kineyama of Deer Horn, and Oyorizawa A total of 18 gold mountains were open.
By the development of Kanayama, the finances of Morioka Sakai in the early Edo period are considered to be extremely rich. According to "Tohoku Mine Fudo-ki", the climax of the gold mine itself was such that there were nearly 4,000 gold diggers during the Qing year (1595-1614) and thousands of mining towns appeared in the mountains immediately. In addition, Masashi Hoshikawa has stated in Food History that "despite military power and national expenses, the wealth of both the public and private sectors is already sealed in the world."
This gold rush lasts for about 70 years, but it will soon go down when it comes to the year of Kanbun (1661-1672). As a result of the conversion to Shirane Kanayama Copper Mine in Kanbun 4 (1664), the development of the Copper Mine is being promoted instead of Kanayama in Oyorizawa.