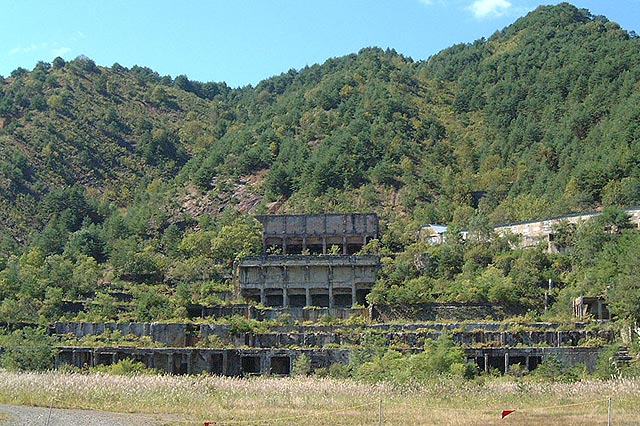 Site of beneficiary mining site
Molt to modern mine
From the late Bakumatsu to the Meiji period, there will be a major shift from mining to corporate management in terms of mining management, and from traditional hand digging methods to Western-style mechanical drilling methods in terms of technology.
The Ministry of Finance in 1872 (the Ministry of Finance ) confiscated the right to mine (the mining right) in Morioka's merchants and Kishiya Shigebei (Keisuke Murai) in the "Oyorizawa Copper Mine Case", the largest suspicion in the early Meiji period involving the dedication of Morioka. We pay down to Hirada Heizo. Kojiya who was transferred to Shiroishi in the Meiji Restoration and was charged with a huge donation of 700,000 as a condition for returning to Morioka was borrowed from the British Allt, but failed to repay, Kokiya who managed Oyorizawa Copper Mine Let the mine pay down and operate it, and ordered repayment for its profit. However, they were forced to repay in full the moment they began to invest, and in the end, Allt sues the Meiji government. The government took over and paid back, and confiscated the mining rights held by the locksmith who had all responsibility for the bribe. As a result, the master shops and locksmiths whose branch offices were expanded to Edo, Kyoto, Osaka, etc. will fall down.
The mining right passes the Iwasaki family in 1889 through the hands of a few more managers, and will continue to peak through the history of the mine by the management of Mitsubishi for about 90 years until the closure of the mountain.
A state-of-the-art beneficiary site (falcon) incorporating the flotation method was completed in 1916, and the status as a modern mine is established. The occasion began with the war between Nisshin and Russia, and eventually the military colors increased to the First and Second World Wars, and the demand for copper, which is also a military supply material, surged, responding to this Production has also increased dramatically.
Then, in 1943 (1943), at the request of the Ministry of War, as a super emergency increase of production, a beneficiary site capable of processing 100,000 tons of ore per month, which was said to be Toyo No. 1, was expanded, and production (deposition) status was established. The mine has reached its peak. The amount of mineral production in this year has reached a record high of 1.03 million tons.