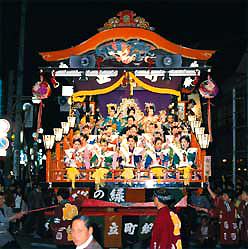 watch video
Summary of the festival
From each of the six towns in Edo, each of the six towns was a group, and it was a festival of firefighting prayers with a 300-year history in which Shishi Yatai prayed for firefighting to Hidaka Shrine with the town mark at the top. Each of the six towns has its own unique temperament, designated by the prefecture, and followed by the luxurious dumpling stalls. The dumpling stalls are made up of gold, green and green pillars, and are decorated with boulders and artificial flowers, and twenty to twenty-five girls on the ladder ride, and Yokosuka, small drums and shamisen play unique dumplings while playing in the city .
Origin / origin of the festival
During the Shosei period, the lord who had encountered three great fires ordered Sasaki Gohei to learn the mechanism and operation of the town fire extinguisher group in Edo, and set up a group in each of the six towns in Edo, like a group, We established a town fire extinguisher group in Mizusawa.
Traffic access
5-10 minutes on foot from JR Mizusawa Station