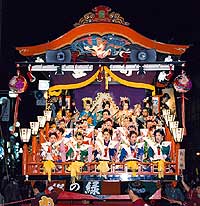 | | |
| --- | --- |
| Pseudonym reading | Hibari Festival "Yaitabayashi" |
| Specified type | Prefecture designation |
| Type | Intangible folk cultural property |
| Designated date | December 24, 1963 |
| Specified details | |
| quantity | |
| location | Oshu City Mizusawa Ward Hidakakoji |
| owner | |
| Holding group | Hidaka Sakai Preservation Society |
| Management organization | |
| home page | Oshu City (Hidaka, Japan) |
Overview
Historically, the fire protection festival can be said to be a festival established for the purpose of praying for fire prevention in the town post area during the Shosei period, but from a folk perspective it was a prayer event for farming in the early spring.
This "Standing bowl" is performed at the festival on the 22nd Chinese New Year.
The band consists of two types: "Uchibayashi", a march-like style in which a boy beats a large drum by himself, and "Hayashi", in which a young girl in the altar hits a shamisen while matching a shamisen, and both perform well-trained koto winds.
All the songs reflect the city style and are graceful.
The state-of-the-art tone, which continues the 300-year tradition, is highly appreciated.