The opportunity is the first in the country, from the toilet in the rice field
From around 1990, examination was carried out about field (hojo) maintenance of Tono-shi, Saori (ayaori) district. At this time, there was a brave woman who offered to the city hall, saying "I want to make it because I have no toilet in the rice fields". For this reason, the city office asks women's groups in Takiori to organize their voices. In this way, "the first toilet in the rice field" which was introduced to the national newspaper was realized.
In response to this, the head of the women's group, Nayo Kikuchi, set up a meeting called "Let's make a proposal to the group and administration in order to make the area where you live better," We had a women's meeting to make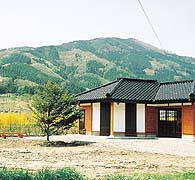 Opened a store that brings dreams to life
"A dreaming society" has many dreams.
* I want to put out a shop that makes my dream come true * I look at the area * Create an environment that can coexist with nature * A management with income of 10 million yen or more (from the "activity goals" of the association)
Of these, the dream of "a store that makes dreams come true" came into being in 1998. A "Yumesaki Chaya" opened at Michi no Eki, Tono-no-fu no Oka. This quickly became a reputation and sold 18 million yen in the first year alone. As it is not a viable approach, the company established a business union with the investment of 18 people the following year.
Not a restaurant but also a cafeteria, "Chaya". This naming, menu, taste, and price were decided by incorporating the opinions of all members. For example, products "Konari" "Kirishinsho". The dumplings from Tonogo have a unique taste at each home. Which taste do you want to commercialize? We asked all members to make and carry something called "Kokozo" and held a tasting party. Whether taste, shape, labor, and cost were not rated too much. The buckwheat noodles were also decided by everyone to eat and decide how much the size and weight of the noodles are appropriate, and decided to have the maker make a special ball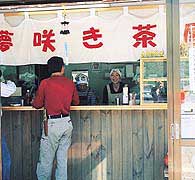 Send dreams to the region, northeast to north
"It's not just a member's dream. I will send it around," Mr. Kikuchi is very active.
"Forum to live in such a town, want to live in such a town" is one of the dispatch. From here, the exchange between the agricultural youth and members of the Chamber of Commerce was born.
"Northeast North Navena Summit". Mr. Kikuchi's idea is that this unusual idea of having a hot pot to enjoy at night. Suggested to the food subcommittee of the North Tohoku Wide Area Cooperation Promotion Council. The first one was held at Takamuro Mizukoen in Tono City in 2001, and "Senbei soup" in Aomori Prefecture, "Keno soup" in Akita Prefecture, "Hittsumi" in Iwate Prefecture, etc. .
The next year, Akita Prefecture, and the next year, Aomori Prefecture, was held in circulation, and it was very exciting. However, "I miss every three years. Let's do it every year in Tono," and the Iwate Edition Nabenabe Summit is held every year thereafter.
The dream goes on further.
"Twill weave green tourism". It is about trying to let local children experience farming first than urban children. Until now, children have experienced experiencing tear-breeding, sheep rearing, and vegetable making. The produced vegetables are used as the food for Yumesaki Teahouse.
Saori is also the "Sakai no Sato". There is also a dream of processing the fruit to make it a new product. By making use of the processing skills of the large seniors, the idea is to make them live and to add to their income.
Seeding planters dreaming of the next generation is steadily advancing.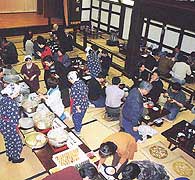 Major awards * 1999 The 5th Iwate Prefecture "Ikiki Nakayama Prize"
* 2001 Food Amenity Contest Minister of Agriculture, Forestry and Fisheries Prize * The 1st Iwate Prefecture Regional Development Commendation Award Governor Award
Link
Road Station Tono Windy Hill
Iwate's Cultural Information Encyclopedia (Local cuisine collection, Kannari)