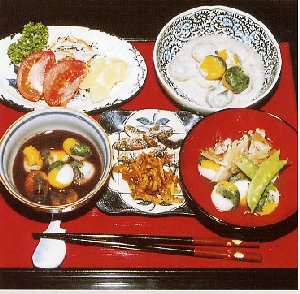 Certification year
1996
Technology type
traditional Cousine
Main area
Hanamaki
Introduction of cooking
It started with adding vegetables and milk using dumpling rice to dumplings of traditional food taking advantage of cold damage of 1993. Yellow, green, white and colorful dumplings are eaten as red beans and soup dumplings.
material
(4 servings) Rice flour ... 420 g of sticky rice, 180 g of glutinous flour (mixed and used in 3 equal parts) coloring base ... 200 g of pumpkin (boiled), 150 g of daikon leaf (boiled), 240 cc of milk Pumpkin dough 180 cc, Japanese radish leaf dough 80 cc, no milk dough
How to make
1. Mix the flour into 3 equal parts, pour a quantity of hot water for each color, and simmer.
2. Add coloring material and spread it in a stick shape when the hardness of the earlobe is further classified.
3. Twist 3 pieces of rod-like dough and carefully cut so that 3 colors can be inserted.
4. Round with your palm, lightly crush with your thumb and boil with boiling water.
5. Put the boiled three-colored dumplings in azuki beans, walnuts and soup and eat.
Cooking point
1. In order to have a good food for the body, incorporate yellow, green and white three colors into the dumpling and twist into one.
2. When flattening the rolled dough, crush so that the three colors come out.
3. Finish in a bowl with no eyebrows, as the three colors will be one.

Uekawa Yoshiko's traditional food "Misho dumpling"
Contact Information Hanamaki City Ishitogayacho Nishinakajima 1-18-2
Telephone 0198-45-3867
Explanation We devise what we produce in-house and make use of for cooking. Consultation is required for demonstration guidance.