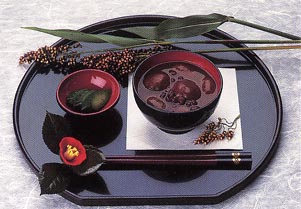 Certification year
1999
Type of certification
traditional Cousine
Main area
Ofunato
Introduction of cooking
It is a shiruko made with oyster paste.
material
(For 4 people) Battered powder ... 200 g, boiling water ... 1 cup, apricot ... 150 g, rough fish ... 150 g, salt ... a little bit
How to make
1. Pour hot water into the millet powder, mix in batter with a potato dumpling, and boil gently.
2. Make it soft enough to have an earlobe. At this time, try not to use hand powder as much as possible, and it will be delicious if you squeeze it while squeezing your hand with water.
3. Roll in a stick shape, cut into 20 pieces, and roll it into a dumpling.
4. Boil the apricot gently in the form of grains, add salt and a little salt, and boil it. (When using 200g, it is better to use an old electric kettle)
5. Boil the shirroko, put in one roll of rice dumpling and finish it when it rises.
Cooking point
1. It is delicious to eat soft and soft.
2. Make as much flour as possible.
3. The amount of boiling water is slightly different depending on the drying condition of the powder, and it is judged by hand.
4. It is recommended that you select a mochi type when purchasing, as it depends on the type of powder you like.
5. Boil dumplings and then put them in the shirroko for half the taste.

Ayako Fukaishi's "Kibi-Dango"
Contact Ofunato City City City Lettering 32
Telephone 0192-28-2016
Description A demonstration of a home-made meal in Iwate Prefecture.