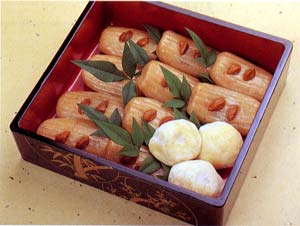 Certification year
1997
Type of certification
traditional Cousine
Main area
Shinami Town
material
(30 pieces) Whip flour 500 g, soy sauce 30 cc, water 600 cc, sugar 250-300 g, salt 2 teaspoons, walnuts, black sesame, black sugar as appropriate
How to make
1. Put water, soy sauce, sugar and salt in a pan and bring to a boil. Turn off the fire, put in the wheat flour, mix and let it sit overnight.
Put black sesame in 2.1 and take it well. Cut into pieces of your choice, flatten out, put in brown sugar and crisp walnuts, and put together a mold.
3. Steam for 15 to 20 minutes with a steamer.
Cooking point
1. Allowing you to sleep overnight will allow you to have a lasting break.
2. Add brown sugar and crispy walnuts in it to make it have a traditional taste.

Atsuko Hosokawa's "rice flour cooking"
Contact Shiba Town Nishinagaoka Asukata 21-1
Telephone 019-682-4557
Explanation Demonstration before delivery, contact acceptance is after 17:00.