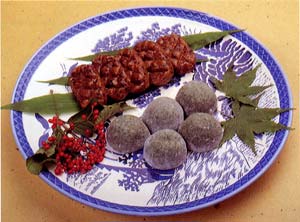 Certification year
1997
Type of certification
traditional Cousine
Main area
Hanamaki
Introduction of cooking
Kiri-sensho, together with the flower bun, was made a lot for the last season of the peach and served in the Buddha and the altar. It is said that "Kirisansho" has been called "Kirishinsho" since it was called "Kirisansho" from the place where the flour was kneaded with the soup soaked with the minced mackerel.
material
(50 pieces) 700 g of flour, 300 g of glutinous flour, 500 g of black sugar, 100 cc of soy sauce, 5 cups of water (a little more), 2 cups of salad oil, 2 tablespoons of walnuts, a little sesame seeds
How to make
1. Boil brown sugar, soy sauce, water in a pot and add salad oil at this time.
Add the flour quickly while simmering 2.1, and "semi-kill".
Apply a newspaper to 3.2 to get a little bit of heat, then add walnuts and sesame seeds.
Combine 4.3 into a suitable shape and steam in a steamer for 12 to 13 minutes. ※ If you put white sugar and red beans in place of brown sugar, the color changes.
Cooking point
1. The key point is that "Shinne" and "Nesuke" is the point, and it is possible to make a good crisp of crispness. Morohaya Daifuku takes time to make "An" and prepares it thoroughly. (Dafuku is delicious with "an")

Mr. Abe Iyo's "Chrissensho-Moroheya Daifuku"
Contact Information Hanamaki City 6-12
Telephone 0198-26-2749
Explanation A traditional dish "Kirisensho" representing rice-dense Hanamaki.