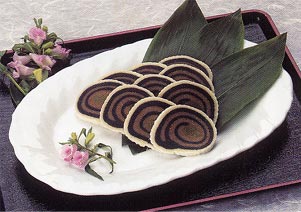 Certification year
1999
Type of certification
traditional Cousine
Main area
Tono
Introduction of cooking
A flavorful yube filled with black sesame, white sesame and kinako.
material
(For 50 pieces)
Sticky rice flour ... 490 g, glutinous rice flour ... 210 g
※ Mochi7: 700 g of powdery 3 powder
White sugar ... 1 kg, water ... 5 cup, white sesame ... 200 g, black sesame ... 200 g, Kinako ... 60 g, salt ... proper amount, starch starch ... proper amount
How to make
1. Boil 1 kg of white sugar and 5 cups of water to make a syrup and cool moderately.
2. Add 3 cups of syrup little by little to 700 g of flour and stir until paspasa is gone. If you like it, break it into a suitable size, put it in a steamer and steam it until it is clear. (About 10-15 minutes)
3. Apply white sesame and black sesame separately to the mixer. Put white sesame, black sesame and kinako separately in 3 balls.
4. Once it is steamed, mix 150g with the flour, and divide the rest into 2 equal portions, combine with sesame, and shake well to make 3 kinds of yube.
5. Kinako Yubeshi is made into a 50 cm rod, and white and black yubeshi is rolled with a rolling pin to a size of about 25 cm x 50 cm. (It is better to make the black Yubeshi slightly larger)
6. Apply black syrup with syrup, put whitewash on it, place Kinakoyube in front of the hand, apply syrup over the whole, and roll it into a beautiful spiral shape with a roller.
7. After winding, stop on both sides with rubber bands, place in a refrigerator for half a day, and then cut to a thickness of about 1 cm. (It may be cut immediately.)
Cooking point
1. Toothy feel is improved by sufficient stiffness.
2. By using sugar as syrup, it is easy to make uniform amount.
3. When winding, while stretching slightly on each side, pay attention to the winding so that the thickness is uniform.

Mr. Naka Sasaki's "Gomayubeshi"
Contact Tono City Miyamorimachi Tatsuya part 46-34
Telephone 0198-67-6221