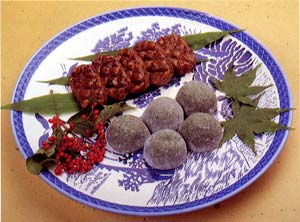 Certification year
1997
Type of certification
traditional Cousine
Main area
Hanamaki
material
(30 pieces)
Sticky powder ... 500 g, sugar ... 500 g, Morohiya powder ... 30 g, boiling water ... 500 cc, Neruri (crushed) ... 900 g (30 g 30 pieces)
How to make
1. Pour hot water into glutinous flour and knead.
Steam 2.1 with steamer for about 20 minutes.
3. Take heat to the ball.
Put Morohaiya powder in 4.3 and make it firm and glutinous.
Break 5.4g to 50g, put 30g of ang, and it is the completion of Morohiya Daifuku.
Cooking point
1.Moroheyer Daifuku takes time to make "An" and prepare it thoroughly. (Dafuku is delicious with "an")

Mr. Abe Iyo's "Chrissensho-Moroheya Daifuku"
Contact Information Hanamaki City 6-12
Telephone 0198-26-2749