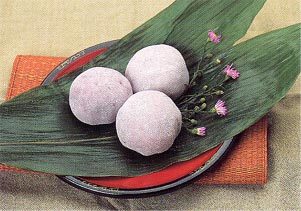 Certification year
2000
Type of certification
New local food
Main area
Iwate
Introduction of cooking
A soft manju is a soft-bodied bean paste wrapped in a dough mixed with a locally produced blueberry sauce.
material
(For 10 pieces)
Walnut powder ... 200 g, lukewarm water ... 70 g, blueberry sauce ... 30 g, grain bean paste ... ...
Red beans ... 1 bowl, water ... 2.2 liters, three hot sugars ... 600 g, top white sugar ... 600 g, starch syrup ... 200 g, salt ... 20 g
How to make
1. Put lukewarm water in the flour and knead it.
2. Put a bedcloth in a steamer with steam and put the dough flat and steam for about 30 minutes.
3. Once steamed, knead it quickly on a plank. (Until the surface is smooth)
Put 4.3 in cold water and get hot.
Put 5.4 in a ball and knead it with your hands.
6. Put some amount of blueberry sauce in a slightly firm dough. Knead until the sauce is evenly mixed with the dough. (Until the mottled pattern disappears)
7. Divide the dough into 10 parts and wrap the bean paste prepared beforehand.
8. Sprinkle with starch powder and ready.
Cooking point
1. Keep the softness by chilling the steamed dough with cold water and kneading.
2. The degree of hardness of the dough determines the timing of putting the sauce. If you put the sauce in a place where the dough has been kneaded too soft, it will be difficult to organize the shape.
3. It is important to make dough quickly.
4. The color of the steamed bun is stable because the blueberry sauce uses no additives. (Life improvement group in town is processing, and the sugar content is finished to 40 degrees. Those using blueberry sauce with additives have quick color change.)
5. Make the whole together and use it frozen.

Takuhiro Nishida's "Blueberry Manju"
Store name Nishida dumpling shop
Place Iwate Town Oza Numamiya 8-30
Telephone 0195-62-2224
FAX 0195-62-4655
HP address http://isigaminooka.jp/
Business day/
Opening hours 8:00 to 19:00
Regular holiday January 1 to 3
Explanation One piece 100 yen
Name of the store Road Station "Ishigami Hill" product direct facility
Place Iwate Town Oji Ikaichi 10-121-20
Telephone 0195-61-1600
HP address http://www.thr.mlit.go.jp/road/koutsu/roadstation//iwate/iw21.html
Business day/
Opening hours 9: 00-18: 00