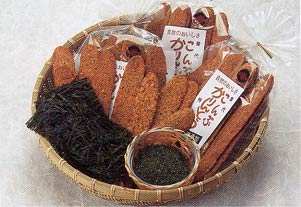 Certification year
1998
Type of certification
Specialty products
Main area
Fushiro Village
Introduction of cooking
I use powdered simmered kelp from the village special product.
material
(11 bags for 100g) Flour ... 900g, Suki Kelp powder ... 2g, milk ... 400cc, sugar ... 200g, white sesame seeds ... 30g, salt ... 1 tablespoon, fried oil ... Appropriate amount
How to make
1. Use a gas stove to heat and dry the simmered kelp on the gas stove, squeeze it into a bag and then squeeze it with a speed cutter and then sinter it with a speed cutter.
2. Add sugar and salt to flour and sift.
Mix simmered kelp flour and white sesame seeds in 3.2 and knead with milk. Divide the cooked one into four and take for 1 hour.
4. Knead the beaten seeds once more and make them into a kamaboko type.
5. Cut the kamaboko type into thin pieces, and thin and stretch them with a roller of a noodle making machine into a plate shape 21 cm long, 6 cm wide, and 1 mm thick.
6. Deep-fry the plate. The oil is initially brought to a low temperature (about 100 ° C.) and gradually raised to 150 ° C.
※ The size of the product is about 20 cm long, 5 cm wide, and 2 mm thick.
Cooking point
1. Stiffening the seed makes it easy to mold.
2. If the simmered kelp is put too much, the oil after fried is bad and the color of the product is not clean.
3. Since it becomes smaller when fried in oil, when the seeds are stretched with a roller, the length and width are previously formed to be about 1 cm larger.
4. The temperature of the oil is deep-frying from the beginning, as the surface of the glaze can be uneven, so frying from a lower temperature.
5. While frying, turn over again one by one so that heat is added evenly.

"Konbuka Rinto" of the Aoba Life Improvement Group
Store Name Sanriku Railway Fushiro Station Shop
Telephone 0194-35-2411
Business day/
Business hours 8:00 to 17:30
Explanation Processed sales according to the order. You can also experience it. One bag 420 yen.
Related site http://www.iwatetabi.jp/spot/detail/03485/1835.html
Store Name Country Guest House Guest House Kurosakiso Store
Place Fushiro Village second ground discount Shimomura 84-4
Telephone 0194-35-2611
FAX 0194-35-2872
HP address http://www.vill.fudai.iwate.jp/kurosaki/
Business day/
Opening hours 7: 30-20: 00
Explanation Processed sales according to the order. One bag 420 yen.
Name of the store Roadside station "Noda" tourist product building Paupuru
Place Noda village character Noda 31-1 3
Telephone 0194-78-4171
HP address http://www.thr.mlit.go.jp/road/koutsu/roadstation/iwate/iw07.html
Business day/
Opening hours 9: 00-18: 30
Description 1 bag 420 yen