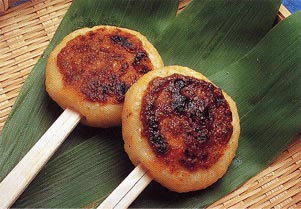 Certification year
2001
Type of certification
New local food
Main area
Hanamaki
Introduction of cooking
Oyaki baked with sesame miso in a dough containing tofu okara and miscellaneous grains.
material
(18 minutes)
Dough Okara ... 300 g, glutinous powder ... 200 g, 粉 ... ... 200 g, inakibi ... 120 g, lukewarm water ... 300 cc
Stir fry sesame seeds ... 100 g, handmade miso ... 150 g, sugar ... 150 g, water ... 4 tbsp
How to make
1. Put the glutinous flour and the powdered flour on a sieve.
2. After soaking in water overnight, drain well.
3. Okara for 5 minutes.
4. Mix well with okara, glutinous flour, flaky flour, and inanaki and boil well with lukewarm water. (The ingredients are mixed well before pouring in lukewarm water.)
Divide 5.4 into 18 equal parts, round each and flatten.
Steam 6.5 in a steamed steamer for 20 to 30 minutes.
7. Cook the sesame in a frying pan, and well in a mortar. Add miso to it and rub it over.
8. Put 7 in a saucepan, add sugar and water and cook well on fire.
Apply 8 to both sides of 9.6 and burn it to completion.
10. It's easy to eat it if it's grilled with chopsticks and so on.
Cooking point
The 1.4 cc of lukewarm water may be replaced with the same amount of milk.
2. If you prefer soft, you may make only with glutinous flour.
3. If you do not have soy sauce, add soybeans to water overnight and then use a food processor to squeeze them and use them as okara.

"Unohana Oyaki (with cereals)" by Chieko Itagaki
The name of the store Roadside station "Ishitori" Agricultural produce direct sale place "Ko's storehouse"
Place 7-7-3 Ishihara Tanicho Chuji Hayashi, Hanamaki City
Telephone 0198-45-6881 (FAX)
HP address http://www.thr.mlit.go.jp/road/koutsu/roadstation/iwate/iw01.html
Business day/
Opening hours 9:00 to 18:00 (9:00 to 17:30 from December to March)
Regular holiday January 1 to 3
Explanation U flower omelet 2 pieces of rice 200 yen, Yukarimochi 5 cut 200 yen, 4 pieces of rice cake 250 yen, red rice 200 yen, 2 pieces of wheat and rice cake 120 yen
Store's Name Mother-Chan House Dasuko
Place Hanamaki City Noda 335-2
Telephone 0198-24-2914
FAX 0198-24-9670
HP address http://www2.pref.iwate.jp/ ̅hp0505 / syoku / shisetsu01.html
Business day/
Opening hours 9: 00-18: 00
Regular holiday January 1 to 3
Explanation U flower omelet 2 pieces of rice 200 yen, Yukarimochi 5 cut 200 yen, 4 pieces of rice cake 250 yen, red rice 200 yen, 2 pieces of wheat and rice cake 120 yen