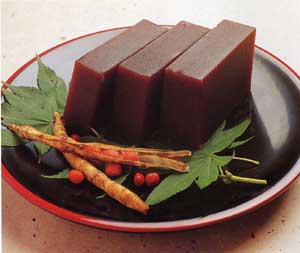 Certification year
2001
Type of certification
traditional Cousine
Main area
Sumita
Introduction of cooking
Simple handmade sweets made with home-grown azuki beans, agar, and xalames. In the Kesen region, Yokan, Yubeshi, and Gansu have been released during the New Year and ceremonial occasions, and how to make the house has been passed down.
material
(6 servings) Azuki ... 1.3 kg, agar ... 6 servings, saltiness ... 3 kg, salt ... 2 teaspoons tea, water ... 1.8 liters
How to make
1. Put red beans in water and simmer. If it is boiled and boiled, replace the water. Repeat this twice.
2. Filter the boiled azuki beans once with bamboo dust, filter with a wire mesh once, and place in a dehydrator.
3. Wash the agar thoroughly for about 30 minutes, and boil gently with 1.8 liters of water. Once the agar melts, melt the sloppy, add the bean paste and simmer until simmering while stirring. When I'm gone, add salt. Simmer for about 1 hour and 20 minutes.
4. Stop the fire, put it in the mold and harden it. It takes about 8 hours in summer and 5 hours in winter.
Cooking point
1. Use new local azuki beans.
2. We will squeeze in a temper not to burn.
3. Yokan is an old-fashioned candy representing the Kesen region, which is made by slowly kneading it at each home when there are New Year holidays and celebrations.