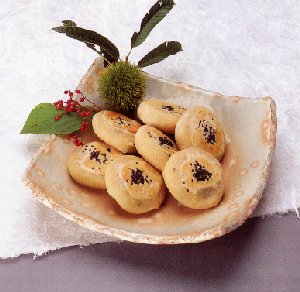 Certification year
1998
Type of certification
traditional Cousine
Main area
Ofunato
Introduction of cooking
It is a rustic snack that has been conveyed to the community.
material
(30 pieces) (skin dough) flour ... 1 kg, boiling water ... 800 cc, white sugar ... 200 g, salt ... 5 g
(An) Azuki ... 330 g, Zarame ... 300 g, salt ... 7 g
How to make
1. Mix flour, sugar and salt well and knead in boiling water. (Made at 600 cc and add 200 cc for kneading)
2. Make an bean paste with a portion of azuki and zarame.
Break the dough of 3.1 into about 60g, spread it, roll the apricot into 40g and wrap it in the bottom.
4. Use rice flour as hand flour to avoid sticking.
5. Bake for about 10 minutes on a hot plate (170 degrees). Turn over one side, put walnuts in the center and bake again for 10 minutes.
Cooking point
1. Make sure to add sugar to red beans and cook it. Add salt and knead well. (About 10 minutes)
2. Add sugar to keep skin soft.
3. Do not add baking soda as it is to preserve the taste of red beans.