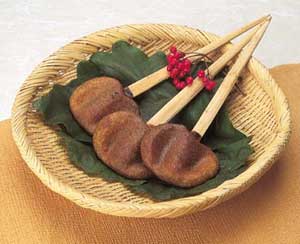 Certification year
1998
Type of certification
traditional Cousine
Main area
Ninohe City
Introduction of cooking
Tenmiso and grilled mochi.
material
(For 40 meals) 5 kg of flour, a little salt, 200 g of miso, 150 g of sesame seeds, 150 g of water, 150 g of water, 100 g of sugar, 1 egg, a little soy sauce
How to make
1. Add salt to the flour and knead in boiling water.
2. Make a shape of mochi and simmer in boiling water.
3. Serve in a bowl, garnish, roast in a miso paste and bake on charcoal.
4. (How to make miso and miso) Put the miso and the porch in a mixer and stir once, add sugar, soy sauce and eggs and stir again to gradually increase the amount of miso.
Cooking point
1. Make the miso so firm that it will not drip when baking on a mochi.
2. If you want to harden mochi, if the preference of the eater is firm, adjust the hardness of mochi by increasing the number of times to knead or twisting vigorously.

Ms. Kudo (Cho) 's "10 Nemiso rice cake"
Store name Farm products direct sales office contact Ninohe
Place Nikoto City Ishigirisho Nakasone 1 (Before JA Kita Iwate Agricultural Cooperative)
Telephone 0195-23-0288 (FAX)
HP address http://www.town.karumai.iwate.jp/syokokanko/kanko/kankoshisetsu/
Business day/
Opening hours 4-November 10:00-18:00
12-March 10:00 to 17:00
Regular holiday January 1 to 3
Explanation "Junenmiso tsukimochi" is 200 yen with 3 sheets (requires reservation), 200 yen with 2 pieces of "Kinkamochi", 200 yen with 2 pieces of "Sake Manju", 200 yen with 3 pieces of "Fried mochi"