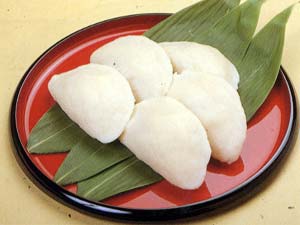 Certification year
1997
Type of certification
traditional Cousine
Main area
Ninohe City
Introduction of cooking
It is made well as a small lunch or snack. There are differences in making miso inside, such as sesame, walnuts, miso, and kinako.
material
(25 pieces) 1 kg of flour, 1000 cc of boiling water, misoan ... 300 g of brown sugar, 50 g of walnuts, 20 g of miso
How to make
1. Add brown sugar, miso and walnuts, add a little water and knead. Divide into 25 pieces.
2. Stir the flour with equal volume (less than 1000 cc) of boiling water.
Divide 3.2 into 25 equal parts, put in 1 miso, and put it into a half moon shape. At this time, put together so that you don't get miso inside.
4. Boil with boiling water, and if it rises, take in water.
Cooking point
1. How to put together.
2. When putting in half-moon form (form of a basket), put together so as not to come out with soy sauce inside.

Tomoko Ono's "Musukamochi"
Store Name Kitchen Garden
Place Nioto City Johoji Komagajyoji Naive Maeda 6-13
Telephone 0195-38-4936 (FAX)
HP address http://www11.ocn.ne.jp/ ̅k- garden /
E-mail k-garden@axel.ocn.ne.jp
Business day/
Opening hours March-October 8:30-18:00
November to February 8:30 to 17:30
Regular holiday January 1 to 3
Explanation "Kamasa Mochi" 4 pieces 250 yen, "Oyaki" 2 pieces 200 yen, and other handmade sweets are sold.
Related site http://www.iwatetabi.jp/spot/detail/03213/1320.html