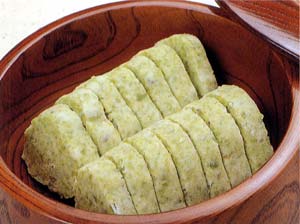 Certification year
1997
Type of certification
traditional Cousine
Main area
Kuchinomura
Introduction of cooking
The god of the mountain on the old December 12 was made by calling the bush wares in early spring. I make it in the fall season now.
material
1 tablespoon of blue soybeans, 7 to 8 flour of glutinous rice flour, 700 g of sugar, 1 tbsp salt
How to make
1. Clean the green soybeans and leave it in water overnight.
Grab a salt and boil the blue soybeans into the boiling water where the green soybeans of 2.1 are scorching.
3. If the hot water is boiled and the blue soybeans start to move, try eating after 15 seconds and if they do not smell fresh, raise them to wash them with water.
Crush the blue soybeans in 4.3 with a masher, mix rice flour, sugar and salt, and combine into a stick.
Cooking point
1. Boiled green soybeans are the point. If it is not enough to boil it will smell fresh, if it is too boiled it will be too soft and the color will be worse.
2. Boiled salt improves the color of soybeans. Since the boiled blue soybeans are washed and cooled, the sugar is not dissolved, and the blue soybeans can be put together without much rice flour. Because of this, the taste and color of the blue soybeans are good.