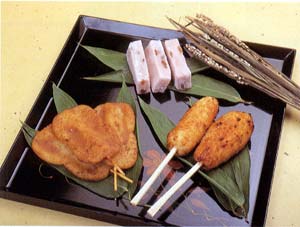 Certification year
1997
Type of certification
traditional Cousine
New local food
Main area
Hanamaki
material
(5 or 10 servings) Uruchi rice ... 4 cups, oysters ... 1/4 cup, Kouji chamiso ... a little bit, miso miso ... a little bit, chopsticks ... 10 bottles
How to make
1. Cook some rice with sticky rice and rice cake.
2. When it is steamed, smash it in a hot dish.
3. Prepare in the shape you like, cook it in a small bowl and bake it a little to dry the surface.
Apply miso to 4.3 and bake to the extent you want to dry.
Cooking point
1. You can easily eat the unique smell and taste.

Takahashi Kimie's three types of bowl "Ocha bowl, Gongen bowl, wine bowl"
Store's Name Mother-Chan House Dasuko
Place Hanamaki City Noda 335-2
Telephone 0198-24-2914
FAX 0198-24-9670
HP address http://www.jahanamaki.or.jp/sancyoku/index.html
Business day/
Opening hours 9: 00-18: 00
Regular holiday January 1 to 3
3 cups of rice bowl with 200 pieces of rice, 200 yen with 2 bottles of gong, 200 pieces of wine with 5 pieces of wine bowl
Related site http://www.iwatetabi.jp/spot/detail/03215/1482.html
Store name Osako direct marketing Center Application
Place 11-32-2 Osakocho, Hanamaki City
Telephone 0198-48-2760
HP address http://www.ohasama-asta.com/
Business day/
Opening hours April-November 9:00 to 18:00
December to March 9:00 to 17:30
Regular holiday December 31 afternoon-January 3
3 cups of rice bowl with 200 pieces of rice, 200 yen with 2 bottles of gong, 200 pieces of wine with 5 pieces of wine bowl